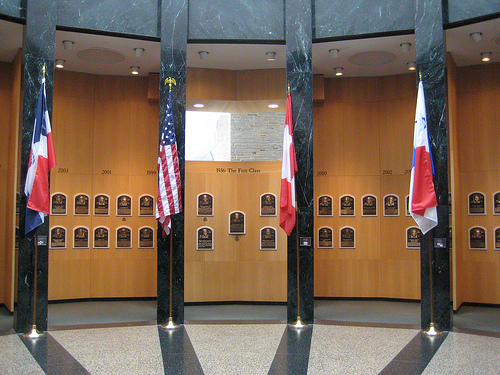 The National Baseball Hall of Fame Induction Ceremony will feature some of the best talent the game has seen from any era.  Cooperstown, NY will be the place to be on July 26th as the Class of 2014 is inducted.
This summer the baseball community will gladly welcome in three legends of baseball.  Greg Maddux, Tom Glavine, and Frank Thomas will all have their places cemented in MLB history.  All three new member of the Hall of Fame managed to do so in their first year of eligibility.  This is the first time since 1999 that we have three first ballot HOF'ers in the same year.  Any clue who those three players were?
Nolan Ryan, George Brett, & Robin Yount
Not a bad class either.  Almost too difficult to decide which class is better.  Both classes have arguably the best pitcher of all time.  Two very different pitchers but I think it is hard to discount Ryan or Maddux as the greatest to ever throw off the mound.
This induction will be quite the spectacle after last year yielded no player additions to the Baseball Hall of Fame.  It was sad to see no one made it last year but this is the post-steroid era so it will continue to be tough sledding for any player that voters are uncertain of.
This is the unfortunate state of baseball and its recent past but it should not take away from the achievements of those who did it the right way.  I don't think there is any question that these three guys did it the right and clean way.  Players like Thomas, Maddux, and Glavine don't come around to often.
This summer will be a celebration of their amazing careers.  Let us take a moment to reflect on each player from the Baseball Hall of Fame Class of 2014.
Greg Maddux
Teams:  Chicago Cubs, Atlanta Braves, L.A. Dodgers
W-L:  355-227
Strike Outs:  3371
ERA:  3.16
WHIP:  1.143
Awards:  Gold Glove (18), Cy Young (4), All-Star (8), World Series (1)
Tom Glavine
Teams:  Atlanta Braves, N.Y. Mets
W-L:  305-203
Strike Outs:  2607
ERA:  3.54
WHIP:  1.314
Awards:  Cy Young (2), All-Star (10), World Series (1)
Frank Thomas
Teams:   Chicago White Sox, Oakland Athletics, Toronto Blue Jays
Home Runs:  521
Hits:  2468
Batting Average:  .301
RBI:  1704
Awards: MVP (2), Silver Slugger (4), All-Star (5), World Series (1)
This of course is only a few stat lines from each of their distinguished careers but you get the idea.  These guys were great and each player gained success in different ways.  Maddux and Glavine we teammates for most of their careers and the third member of this trio, John Smoltz, will most likely get in on his first try on the 2015 ballot.
In essence we have one of the best right handed sluggers of all-time, possibly the greatest pitcher ever, and one of the best left handed pitchers this game has ever seen.
The 2014 list of inductees is the best it has been in 15 years.  We have some good ballots coming up but this may be the best Hall of Fame class that we will see for many years.  In addition to these three players there will also be three managers go into the Hall.
Tony LaRussa, Joe Torre, and Bobby Cox will also be commemorated during the July Induction ceremony.
Tony LaRussa
Teams:  Chicago White Sox, Oakland Athletics, St. Louis Cardinals
W-L:  2728-2365
Awards:  Manager of the Year (4), World Series (3)
Bobby Cox
Teams:  Atlanta Braves, Toronto Blue Jays
W-L:  2504-2001
Awards:  Manager of the Year (4), World Series (1)
Joe Torre
Teams:  N.Y. Yankees, N.Y. Mets, Atlanta Braves, St. Louis Cardinals
W-L:  2326-1997
Awards:  Manager of the Year (2), World Series (4)
These are clearly the three best managers of their generation.  It will be a special day for all of these managers but it will be extra special for Bobby Cox.  He will have the privilege of being inducted into the Hall of Fame at the same time as Glavine and Maddux.  Safe to say Braves Nation is sure to be on hand to celebrate the careers of these greats.
This will definitely be the most highly anticipated induction ceremony of this millennium.  See you in Cooperstown!
Ask the Reader
Who do you feel was the ultimate snub on the Hall of Fame ballot this year?