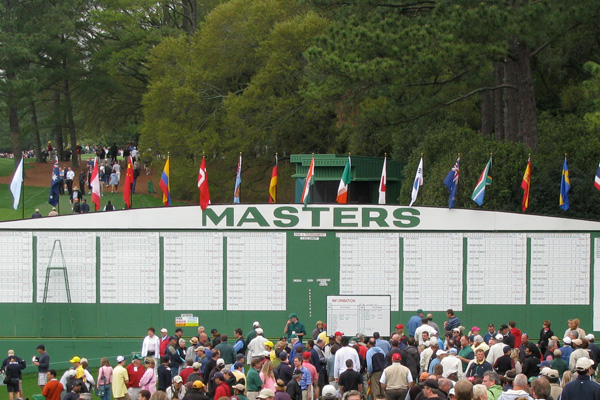 Are you sitting at home watching the 2015 Masters on TV and wondering - How did all those people get tickets? How much does a ticket to the Masters cost? How can I plan my trip to the 2016 Masters?  Let's talk about how to get YOU to the Masters in 2016.
Step 1: Choose Practice Round or Tournament Round Ticket
There are two types of Masters Tickets at Augusta National: Practice Rounds Tickets are available for Monday, Tuesday, and Wednesday and allow patrons to walk the entire course, take pictures of the players, and in some cases get autographs, all in a very relaxed atmosphere. The tickets are the cheapest Masters Ticket of the entire Masters Week and if you want to take your own pictures of the course, attending on one of these days is a must. If you have children, consider attending Wednesday for Kids Day when most players are very willing to sign autographs. Also, many of the Masters most memorable past champions often play in the Par-3 Tournament.
The official Masters tournament ticket days are Thursday, Friday, Saturday, and Sunday. The tournament cuts the field of players down to 56 for Saturday and Sunday making the gallery's much more crowded than the earlier rounds. If you want to see the most players, with the least crowds, choose an earlier round. Championship Sunday is the most crowded day on the course, with patrons usually following just the leaders and making for a difficult time finding good vantage points to watch at both the tees and greens.
Step 2: Booking a Masters Hotel Room
The city of Augusta, Georgia has mostly limited service 2-star and 3-star hotels, with only a few 4-star hotels to choose from. Even the areas worst hotels often charge several hundred dollars to stay during Masters Week. My company secures several of the best hotels in the Augusta area in advance for our guests. The best value trip we offer is a Masters Travel Package that includes your hotel room, Masters tickets, transportation, and access to our hospitality venue. We can also add on airfare to Augusta, tee-times at local courses, and private course transfers. If you want to stay the entire week, consider renting a home during the Masters. We have 4 night or 7 night Masters Private Home Rental Programs.
What to see at Augusta National: 
I have my own favorite must see areas of course. Amen Corner (11, 12 & 13) is by far my favorite spot to watch the tournament. After spending some time in this area, cross at the 15th pedestrian cross-walk and head over to the gallery at the 16th tee. From here you can watch them putt at the 15th and then they will tee off at 16th right in front of you for this par 3 hole.
So, let's get your trip to the 2016 Masters booked! It's a once in a lifetime trip that many decide to revisit many times over. There is something special about Augusta National. Let us help you see for yourself why this is the most famous golf tournament in the world!