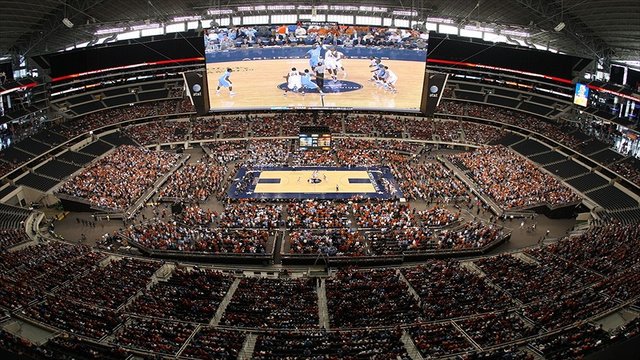 College basketball has officially started so lets look ahead the 2014 NCAA Tournament & Final Four schedule.
It may be a bit early but the heavy dose of college basketball this week has me already thinking of the tournament.  We practically got a preview of the Final Four on Tuesday when 4 of the top 5 teams in the country played on the same court on the same night in Chicago.  The United Center was hoppin' with 4-5 projected lottery picks being featured in an early season showcase.  Watching made me very excited for college basketball and the potential for madness this March and April.
The madness will officially begin the week of conference tournaments but it all comes down to who's in and who's out.  The nation will find out on March 16, 2014 when the selection show is complete.  After that, the real fun begins.
| | |
| --- | --- |
| 2014 NCAA Tournament | Dates |
| First Round (68) | March 18-19 |
| Second Round (64) | March 20-21 |
| Third Round (32) | March 22-23 |
| Regional Semifinal (16) | March 27-28 |
| Regional Final (8) | March 29-30 |
| National Semifinal (4) | April 5 |
| National Championship (2) | April 7 |
*() = Teams Remaining
2014 Final Four - AT&T Stadium - Arlington, TX
There is still a lot of season left but it will be tournament time soon enough.  It won't be long until we are crowing a champion during a chaotic scene at the floor level of AT&T Stadium (formerly Cowboys Stadium).  It should be an incredible scene in Arlington when the Final Four kicks off on April 5th.  The town and stadium are truly meant for major sporting events like the Final Four and Super Bowl.  Plus it will once again be funny to see the basketball court dwarfed by the giant HD screen on display in AT&T Stadium.
The schedule for the Final Four will something like this.  On April 5th, the first semifinal match will tip off around 6 pm local time and the second semifinal game will begin roughly 45 minutes after conclusion of game 1.  On "Championship Monday", April 7th, the final game of the season will get going around 8 pm local time.
Here is a look at all tournament locations for the 2014 NCAA Tournament.
NCAA Tournament Locations
First Round
March 18th & 19th
UD Arena (Dayton, Ohio)
Second-Third Round
March 20th & 22nd
First Niagara Center (Buffalo, N.Y.)
BMO Harris Bradley Center (Milwaukee)
Amway Center (Orlando, Fla.)
Veterans Memorial Arena (Spokane, Wash.)
March 21st & 23rd
PNC Arena (Raleigh, N.C.)
AT&T Center (San Antonio)
Viejas Arena (San Diego)
Scottrade Center (St. Louis)
South Regional
March 27th & 29th
FedExForum (Memphis, Tenn.)
West Regional
March 27th & 29th
Honda Center (Anaheim, Calif.)
East Regional
March 28th & 30th
Madison Square Garden (New York)
Midwest Regional
March 28th & 30th
Lucas Oil Stadium (Indianapolis)
Final Four
April 5th & 7th
Cowboys Stadium (Arlington, Texas)
What are you most looking forward to during the 2013-14 college basketball season?