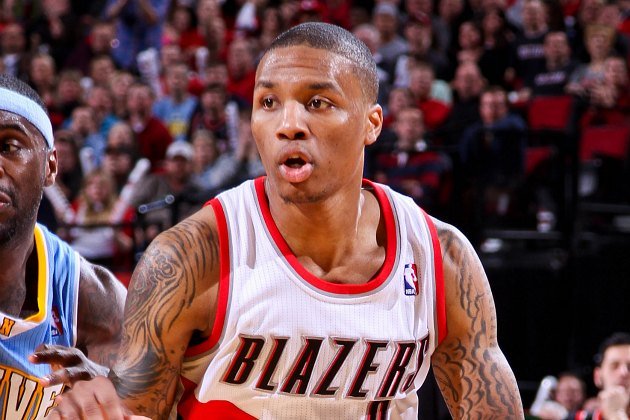 This weekend Damian Lillard will have the opportunity to expedite his path to becoming great.  In just his second year Lillard has the chance to become the king of NBA All-Star weekend.
Damian Lillard is not your average NBA sophomore and this weekend he will be out to prove it.  Baring any last minute changes the Portland guard will be competing in almost every possible event during the NBA All-Star weekend.   The only event he will not compete in is the Sears Shooting Star competition.  A competition that is more like the celebrity game than a true challenge.  So for the purpose of this accomplishment we can just say he is competing in every All-Star event.
1, 2, 3 Go!
It will all begin with the BBVA Compass Rising Stars Challenge.  Last year Lillard played in this game and managed 18 points, 5 assists, 3 rebounds, and 2 steals.  A nice line but not worthy of MVP.  So this year he will have another shot to make his mark against the players of his generation and possibly take home an MVP.
Damian will have a relatively light Friday workload compared to the gauntlet of events he will have to endure on Saturday night.  The fun will get started when Damian tries his hand at the Taco Bell Skills Challenge.  After that he will move on to the Foot Locker Three-Point Content and if he has any energy left he will try to win the Sprite Slam Dunk Contest.  Makes me tired just thinking about it.
He will be the first person to ever attempt all 3 events.  After it is all said and done I think he might realize why that is.  I don't think even Lillard realizes just how much energy is required to participate in all of these events let alone compete well enough to win them.  I would love to see him win all three events but I just don't see how a human could have enough left in the tank to complete this colossal task.  In fact, I would argue that competing in all 3 will limit his chances to win even 1 event.  I hope he proves me wrong.
The Cherry On Top
For his finale, Lillard will participate in the 2014 NBA All-Star Game on Sunday as a reserve player.  This will be the first of what appears to be many All-Star game appearances to come for this young star.  So in all he will compete in 5 different events.  Two of which are entire basketball games.  Now it can be expected that he won't play major minutes in the All-Star game but if he plays well he can earn playing time.  Needless to say he will be playing a lot of basketball in the next 48 hours or so.
Even though I have claimed my doubt I still need to address the possibility that he could win the Rising Stars Challenge MVP, all three Saturday competitions, and MVP of the All-Star game.  That would be awesome if Lillard were able to accomplish this feat.  Sometimes the NBA can get repetitive when we are constantly beat over the hard with the same stars all the time.  How much LeBron can we really take here people?  Lillard is a breath of fresh air.  He isn't one of the highly touted players that we have followed since high school.
He is a four year player from a mid-major school that didn't become a star until his senior year.  It just goes to show you that not all of the NBA stars have to be All-Americans to coming out of high school.  Lillard was a diamond in the rough and it is encouraging to see him to continue his ridiculously quick progression as player.  I truly look forward to watching him compete this weekend and I hope for the sake of all basketball fans that he pull of the All-Star weekend sweep.