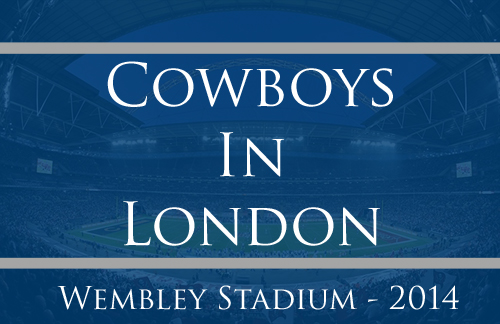 Its official, the Dallas Cowboys will play a game in London during the 2014 NFL season.  It was announced by commissioner Roger Goodell on October 24th while he was actually in the city of London.
Although we don' t know that date, we do know who the opponent will be.  The Cowboys will take on the Jacksonville Jaguars next season as a part of the NFL International Series that was expanded to included 3 games in 2014.
The games will be as follows:
Jacksonville Jaguars vs. Dallas Cowboys
Atlanta Falcons vs. Detroit Lions
Miami Dolphins vs. Oakland Raiders
London Jaguars?
It is important to note that the Jacksonville Jaguars have just completed the first game of four scheduled to take place at Wembley Stadium over the next few years.
The Jaguars are currently at the bottom of the league and often struggle to put people in the stands even when they are competitive.  Most NFL teams fight to not lose a home game.  But for the Jaguars it ends up being better than a home game.  People actually show up.
Average Jaguars Home Attendance Since 2010: 62,475
Average Wembley NFL Attendance Since 2007: 82,582
There is also a lot of speculation that this could be a dress rehearsal for the Jaguars in London.  We all know the NFL is trying very hard to be relevant enough over seas to have a team in Europe.  The Jaguars could very well be that team.  That is ONLY speculation but I would guess the Jaguars end up in London or Los Angeles.  The Jaguars future in Jacksonville is definitely in question but no one in the NFL would admit it right now.
Cowboys in London
For years it was rumored that Jerry Jones wanted to play in London but he was not about to give up a home game to do so.  Now he gets his wish and does not have to lose a home game.  So rest easy all you Dallas Cowboys season ticket holders.
Could there be more London games for the Cowboys in the future?  That much is uncertain but Jerry seems to think the NFL can handle the logistics efficiently enough that we could eventually see expansion into Europe. 
"Logistically, to me, it has to be figured on," said Jones. "But it's very doable and won't impact competitiveness between clubs, either going to play them or the team that is there to play." - CBS DFW
Question of the Day
Who will make it in Europe first?
a) NFL
b) NBA